Last winter high winds and storm damage were responsible for the majority of insurance claims at Leisuredays.
The storms that battered the country, caused lots of damage to caravan and lodge roofs and particularly, skylights, in some cases causing water damage inside.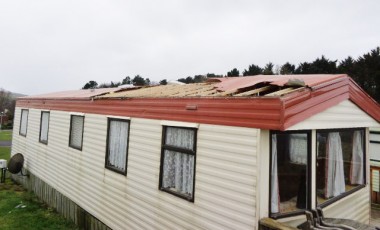 Recent weather reports claim that the UK is bracing itself for a severe winter with snow forecast for November and throughout the winter. Whether, these predictions are right or not, we'll certainly see a drop in temperatures next month.
So, it's vitally important to prepare your static caravan or lodge for winter if we're set for freezing temperatures and prolonged snow and ice.
By making sure you professionally "drain down" it can help to avoid the danger of damage from frozen or burst pipes, and other cold weather risks.
But it's also important to make sure your skylights are firmly shut to prevent any damage in the event of high winds, and check there are no loose fixtures on your roof, skirting or decking that could end up being blown off or damaged in the event of stormy weather.
All 75 weather related claims to Leisuredays last winter were as a result of damage caused by winds or storms. These ranged from skylights being blown off, to roof damage, twisted skirting and broken sheds.
There are a few things you can do to reduce the risk of winter damage to your static caravan or lodge. Read our top tips on preparing for winter and to make sure your static caravan or lodge remains fully insured.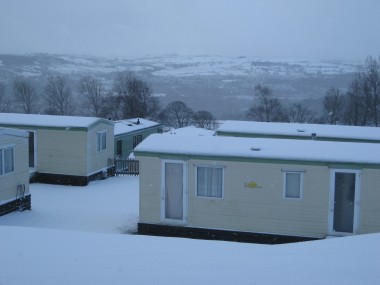 For Leisuredays policyholders we request the following precautions are taken between November 1st and March 15th if the park is closed for winter:
Turn the water off at the stopcock, and
Drain down and winterise all equipment in accordance with the manufacturer's recommendations.
And we ask that our policyholders take the following precautions between November 1st and March 15th :
Turn the water off at the stopcock, and
Turn on all taps and the shower to let all water out, and
Flush all toilets, making sure all water is drained from the cistern

General precautions you may wish to take….

Set central heating system to avoid frost damage
Check anti-freeze levels of sealed central heating systems – these should not be drained
Drain the hot and cold water system of combi boilers as per the manufacturer's recommendations
Consider asking your park for a professional drain down using compressed air. We also suggest you to talk to your holiday park, who will be well versed in draining down.
Winter checklist
You might also want to consider these extra precautions to protect your static caravan and lodge in winter: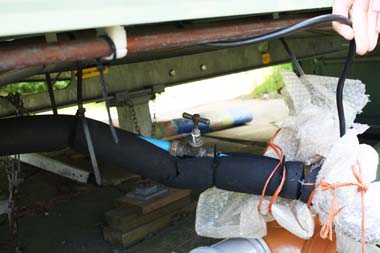 Add a small amount of antifreeze or salt to remaining water in the toilet, sink, bath and shower traps.
Leave external water drainage plugs open.
Unplug any electrical devices, including large white goods.
Remove any bedding, clothing or soft furnishings from the caravan or lodge or store them in a place where air can circulate to avoid damage from damp, mould or to avoid attracting vermin into your static caravan.
Prop open all internal doors and cupboards, and slightly pull out all draws to encourage air to circulate.
Remove or hide from view any valuable items such as televisions. Then leave curtains open so that any would-be thieves can see such items have been removed.
Empty and clean any fridges or freezers and leave switched off with the door slightly open. Remember to drain any ice or chilled water dispensers built into your fridge.
Clear external vents of any debris.
Remove any food which might attract vermin (mice etc) or put in a metal container.
Close and lock all external windows, doors and skylights.
Lubricate door hinges and window locks with a dab of petroleum jelly to make sure they open smoothly when you return.
Hopefully with careful preparation your static caravan or lodge will be ready for whatever winter can throw at it. Please feel free to share any of your own winterisation tips in the comments section below.