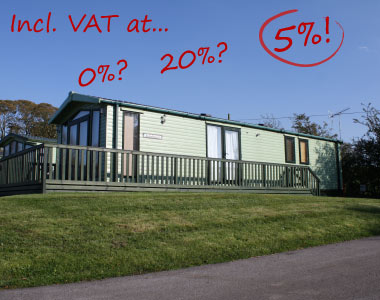 The Government have made a dramatic U-turn on their plans to introduce VAT on static caravans at 20%.
Under a new proposal static caravans, which are currently exempt from VAT, will now have a VAT rate of 5% which will come in to force in April 2013 rather than October this year.
The fantastic news comes as a result of pressure from Leisuredays and its customers, The National Caravan Council (NCC), The British Holiday & Home Parks Association (BH&HPA) and a petition signed by thousands of static caravan owners.
Chris Nettleton, Director at Leisuredays, had this to say,
"We've been completely against the government's plan to bring in VAT for static caravans at the standard rate of 20%, from October 2012 – and whilst the industry hasn't succeeded in stopping the plans altogether we think it is an excellent result to force the government in to adopting a new rate of 5%, delayed until April 2013."
We estimate almost 2000 of the 10800 signatures on the HM Government ePetition are those of Leisuredays customers so we'd like say a special thank you for their support.
Chris added,
"This new rate will have a much smaller impact on the price of a new caravan, will mean customers need to adjust their static caravan insurance 'sums insured' by only 5%, and will lessen the detrimental affect on the industry as a whole."
It's an issue which we know static caravan owners and our customers feel very strongly about, especially after our original blog post on the plans to bring in VAT on statics received over 50 responses.