Winter is on its way so it's time to take steps to protect your static caravan or lodge from the wild winter weather when you leave it unattended by draining down.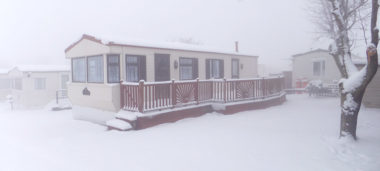 Your static caravan or lodge can be particularly vulnerable to the elements in the winter months so it's important to be prepare for cold and stormy weather and to also make sure your insurance cover remains valid.
Here's our handy guide to winterising your holiday caravan so when you return to it you're not faced with any nasty surprises.
Inside your caravan
If your park is closing, turn off the water at the stopcock, then perform a draining down and winterise all equipment in accordance with the manufacturer's recommendations. Your park operator may offer a professional draining down service by blowing compressed air through pipes so if you want to make sure your unit is fully drained speak to a park representative. If your park is remaining open for winter months, whenever you leave your caravan unattended turn the water off at the stopcock, then turn on all taps and the shower to let all the water out. Flush toilets too, to make sure all water is drained from the cistern. Note these precautions are conditions of cover for Leisuredays policyholders between 1st November and 15th March – customers can check out further advice here.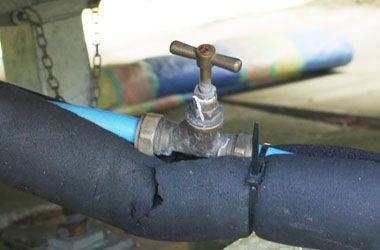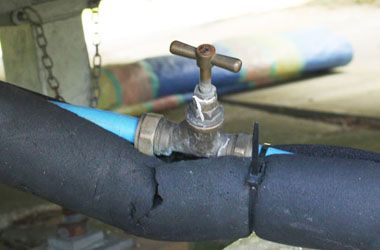 Add a small amount of salt to the plug holes in all sinks, baths and showers.
Unplug any electrical devices, including large white goods.
Check the anti-freeze levels of sealed central heating systems (do not drain these).
If you have a central heating system, set it to avoid frost damage.
Clean the floors and the rest of the caravan.
Leave salt pots around the caravan to absorb moisture and prevent damp.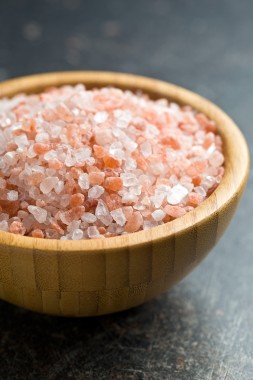 Remove bedding and all food, so you're making your static caravan unattractive vermin by not giving them somewhere warm and cosy to hibernate. We have previously published a guide on preventing vermin accessing your static caravan – click here.
Empty and clean the fridge and freezer and leave switched off. Remember to drain any ice or chilled water dispensers built into your fridge leave the door slightly open.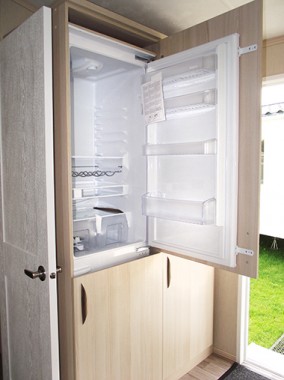 Prop open internal doors and cupboards, and slightly pulling out drawers to allow air to circulate.
Remove all valuables or hide them out of view, and make sure all windows, external doors and roof lights are locked and secure.
Leave curtains open so any opportunist thief can see that there are no valuables for the taking.
Outside your caravan
Give the outside a thorough clean and consider applying an overwintering exterior protector, which is designed to repel dirt and algae.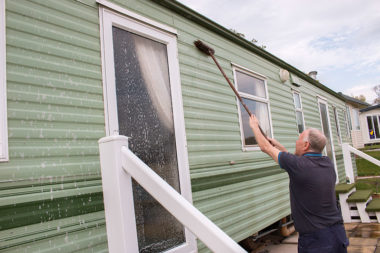 Check the seams and seals on your caravan so you're not coming back to find water has got in.
Make sure all external vents and guttering are clear, removing any debris, and leave them open to stop condensation building up.
Lag any exposed pipes.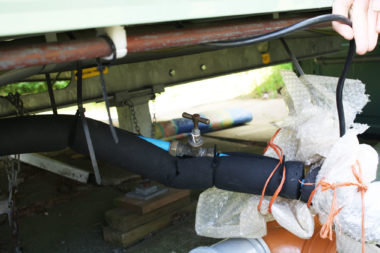 Check all external windows, doors and skylights are closed and locked.
Check the anchoring underneath your caravan is secure and that there are no signs of corrosion and that the chains are in a good state of repair.
Lubricate door hinges and window locks with a dab of petroleum jelly to make sure they open smoothly when you return.
Leave any external water drainage plugs open.
It's also worth checking on your caravan from time to time throughout the winter months, particularly if there has been a spell of bad weather, so you can deal with any damage or other issues that might arise. Some parks even when closed for winter will let owners access their caravans during the day time.
If we do get a lot of snow then it's a good idea to sweep any excess snow from the roof – speak to the park operator and find out how they can help. Such snow can cause roof damage or worse still it can cause a roof to collapse – flat caravan roofs are particularly vulnerable!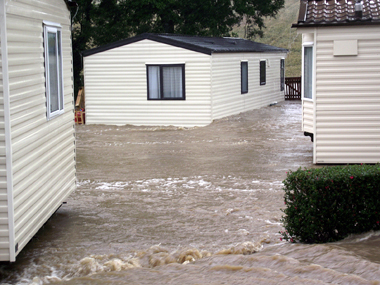 However, common insurance claims we've dealt with over the last couple of winters have been for storm damage and flooding which are largely unpreventable – highlighting the importance of specialist cover for your holiday caravan.
And hopefully our checklist will be make sure your static caravan or lodge is ready for whatever winter throws at it.
Over to you
If you've got any draining down or winterisation tips to share then feel free to comment in the box below.