We have written plenty of advice about preparing your static caravan for winter and the drain down process, but it's equally important that when you first return to your static in the Spring you make a few checks to make sure any issues are spotted quickly.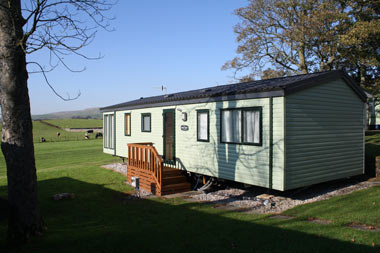 Leisuredays receive claims for winter weather damage throughout the summer, but because damp or escaped water damage will worsen over time it's vital any problems are spotted as soon as possible.
Here are some common types of winter weather damage and how to spot them when returning to your static caravan in Spring.
Water damage
Water damage is often caused by burst pipes but can also be as a result of storm damage. For example, a damaged skylight can let water in when the holiday caravan is unoccupied and this causes damage to the inside.
Check for signs of discolouration or water marks around skylights, doors, windows, vents and fixtures and fittings such as taps, sinks, showers, and white goods. Also carefully check over all soft furnishings and look for signs of damp, mildew, or a musty smell.
Storm damage
Certain external features of your static caravan are obviously more susceptible to damage than others, particularly large exterior fixtures such as aerials, satellite dishes, guttering and roof lights.
But also remember that damage can be caused by items being blown into your holiday caravan, damaging side panels, windows or doors. Make sure you check for any damage like this and make sure the exterior shell has not been penetrated, as even a small crack or hole can let in water and cause serious damage over time.
Boiler damage and failure
Apart from turning on the boiler and seeing if the tap water is getting hot there isn't a great deal you can do to check your boiler is up to scratch. It's for this reason we'd suggest having your boiler serviced annually (whether it appears to be working properly or not) by a Gas Safe qualified engineer to make sure it remains in tip top condition. Having it regularly serviced will prolong it's life and make the likelihood of a breakdown much less.
Vermin damage
Flooring, cupboards, doors, carpets, furniture and soft furnishings can all be damaged by unwanted vermin such as mice. Stopping them can be tricky as they can squeeze through the tiniest of holes or gaps but making sure all windows are firmly secured is a good place to start. See also our tips on keeping mice or rats out of your caravan by clicking here.
When coming back to your holiday home in Spring check for droppings (these can often be very, very small) or signs of gnawing or holes in furniture or furnishings. It's extremely unlikely you will be able to spot or trap small vermin so looking for signs of their presence is your only way of knowing they've infiltrated the unit. If found then you might want to consider laying traps or poison, but avoid doing this if you have pets or small children using your static caravan. If in doubt call in an expert exterminator who will be able to advise on the best cause of action and take care of it for you.
Snow damage
Units can be completely destroyed by the weight of the snow on roofs but once the snow itself has melted it can be difficult to spot the damage.
Look for signs of bowing to the ceiling or water/damp marks, and if possible also use a ladder (following suitable safety precautions) to have a quick look at the roof of your unit for signs of warping or damage. Any bowing, particularly on older flat roofed models, can allow water in over time causing serious damage.
….and finally, a bit of Spring cleaning
Once you've checked for signs of damage or damp it's important that you give the inside of your caravan a thorough clean to make sure you're off on the right foot for the season. Not only does keeping the unit clean avoid attracting vermin but it also prolongs the life of soft furnishings, bathrooms and kitchen fixtures and fittings. For more information on cleaning read our article on static caravan spring cleaning.
Over to you
Got any tips to share. Feel free to add any them to the comments box below.