Spring is here and with it we often see a rise in insurance claims.
If you're currently enjoying time in your static caravan or lodge, or planning a stay soon, we've compiled a list of the top five caravanning mishaps to highlight the variety of claims we handle at this time of year.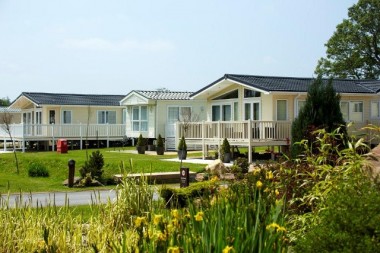 Holiday parks get incredibly busy during spring, especially with families and young children. With this comes an increase in everyday risks, from accidental damage to fire, theft, vandalism and even weather related claims!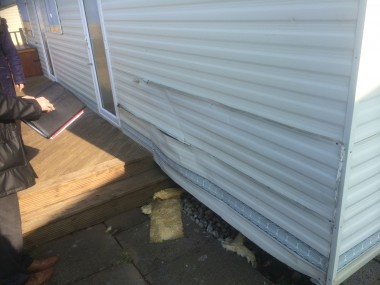 Naturally, you'll want to do everything you can to remain claim free throughout Spring. So let's take a look at the most widespread claims and what you can do to reduce risks.
Number 5: Theft of equipment and personal possessions 
The fifth most common claims amongst static caravan and lodge owners in Spring are those involving theft; particularly theft of equipment and personal effects.
Theft claim circumstances vary greatly. In the past we've handled claims where panes of glass have been removed and contents stolen. Back in January 2014, we heard from a customer who returned to their caravan to find damage to the door and lock. On entering, he found that two TVs, a laptop and digital photo frame had been stolen. The customer was one of 17 others to be targeted by thieves on the same holiday park.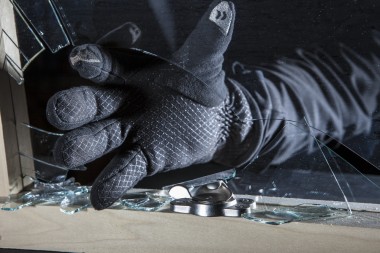 Statistically speaking theft claims are less likely to affect static caravan owners in Spring than they are between November and February, and they are more common out of season when many parks are closed. Even so, we have seen a sharp increase in theft claims during Spring before, most notably in April 2011 when theft claims rose a third higher than the annual average.
How can the risk be minimised?
When researching claims data we found that in many of the theft claims reported, thieves target the caravan's rear bedroom window. This highlights the need for extra security at the back of the unit where trespassers are less likely to be seen. Fitting an alarm system that has a window contact sensor or installing upgraded locks or even bars across the window could help tackle this problem.
We encourage customers to make sure their static or lodge is kept secure at all times. There are monitored alarm systems such as Ramtech that notify the park office if someone has attempted to break into your holiday caravan, which is extra useful when you're not actually staying on the park and can even mean thieves are intercepted before anything is taken or at worst it can make sure your caravan is made secure again following break in. Our recent guide on how to prevent theft of contents explains all.
Number 4: Pipes

The fourth most common spring claims are those involving pipes: burst, faulty, damaged and in a handful of cases, frozen.
Burst pipes under sinks, extensive water damage to carpets and flooring, and problems with central heating piping have all been reported in recent years.
There are a number of reasons why pipe claims could be more prevalent during the spring months. Firstly, it's likely that problems originate over the winter period, so it's only when customers return to their caravan in March or April that the claim is actually reported. Spring weather is also interchangeable and at times volatile which could lead to piping problems.
A huge percentage of policyholders have also made claims after their unit was damaged by escaping water, whether it's through an old pipe or faulty internal drainage system. In these cases many customers report water leaking from behind internal walls or underneath flooring. Fortunately most leaks remain isolated to one area of the caravan, but beds, fitted furniture, upholstery and again flooring are all susceptible to even the smallest amount of water ingress.
Many pipe claims also arise despite customers draining down their caravan before they leave the park. To prevent this kind of claim affecting you, it's important that you make sure the unit is drained down correctly to get every last drop of the water out of the system – this is why it might be worth asking your park at the end of the season to blow compressed air through the pipes.
If you notice any problems with drainage, either in your sink, shower or toilet, this could suggest that there's something wrong with a pipe, so call in a professional as soon as possible to prevent long-term damage.
Number 3: Accidental damage – internal
Internal accidental damage claims are the third most common type of claims made in spring. Last year we saw a significant rise in damage claims in June, July and August. Further back in April 2010, we actually saw the highest number of damage claims recorded over the past five years.
These claims differ in terms of severity and repair cost, but generally speaking, they're down to spills, ripped furnishings, scuffs and dents.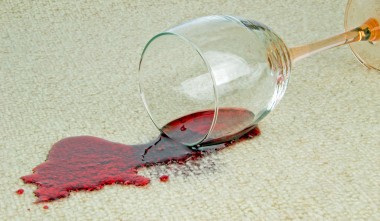 Our claims data shows that accidental damage claims can happen anywhere inside the holiday caravan. Cracked shower trays and damaged kitchen worktops caused by falling bottles and tins are extremely common. Broken ventilation grills, cracked toilet bowls, spilt bleach and shattered patio furniture are just a few examples of the variety of claims made in recent years.
To avoid these accidental mishaps, it's important to take extra care inside and around the static caravan or lodge. For instance, it might be better to store heavy shampoo bottles low down to avoid them falling and cracking your shower tray. Likewise take care when storing heavy items in cupboards above kitchen worktops and cookers.
Number 2: Boiler claims

A high proportion of boiler claims and claims involving escape of water are linked to weather, so it's easy to see why they're the second most common spring claim.  Spring averages for boiler claims are over 80% higher when compared with figures for winter, autumn and summer.
Since 2010, we've handled more claims for damaged boilers than any other claim made as a result of severe weather. Indeed, blown or burst boilers  account for almost a quarter of weather claims.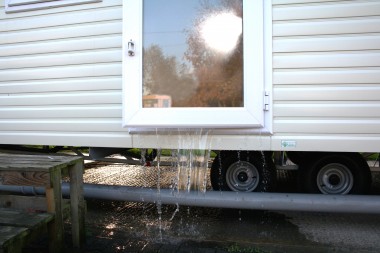 Claims of this kind range from very severe where the boiler has exploded, causing damage to floors and furnishings; to cases where the boiler has simply stopped working as a result of frozen pipes. We've also heard from customers whose boilers have blown out after a power cut.
If you'd like more information on how to avoid these and other winter claims (even in Spring) take a look at our complete guide to winter claims.
Number 1: Storm
You may not be surprised to learn that storm claims are the most common claims amongst Leisuredays customers in Spring, when the weather is at its most unpredictable. Claims made following strong winds or tidal surges tend to cause the most problems for our holiday caravan owners, specifically roof lights, side panels, exterior cladding, decking and verandas. After last winter's storms we also had more flooding claims than usual.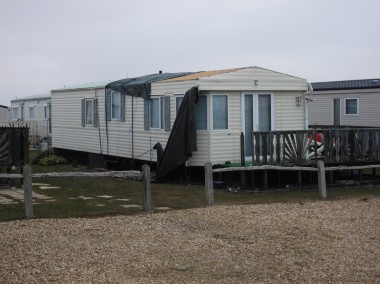 It's much harder to protect a unit against storm claims than it is other risks because, as our claim records show, they can affect each and every part of the caravan – internally and externally.
In recent years we've helped customers whose guttering has come down, whose roof has been dented and those who've lost power because of torrential weather. In fact our claims database shows a whole plethora of different storm cases where trees have fallen onto units; repairs have been necessary to TV aerials and skylights, and in some cases, entire side panels have been torn off. It's not surprising then to see that the Spring average for storm claims is often higher than the rest of the year.
Although fairly unpredictable in their nature, minor storm claims can be avoided. To stay one step ahead of the weather, we recommend checking the MET office website regularly.
Keep outside furniture protected by storing chairs and tables away securely in locked sheds or tied down underneath the veranda if possible, so that when high winds do arrive these items aren't blown into the side panels of the caravan or lodge. Inside the unit, store items of high value in a safe, secure and dry place. Make sure any rooflights are properly closed and locked; and make sure any item that could potentially move around is stored securely to avoid damage.
Why not read our recent guide on weather precautions for more information. 
Join the conversation!
Have you ever had to make Spring claim?  Share your stories and top tips in the comments section below.